Juice Yoga, Mela, 200 ml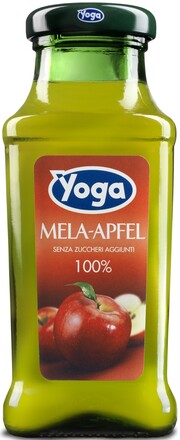 This product is a set of 24 pieces.

Price is per set

Region:

Producer:

Volume:

Quantity in the box:

24
Order by phone
+7 (495) 988-45-58
Call us
Our wine consultant (sommelier) will help you choose the wine to the table or as a gift. And will respond to all your questions on the wines.
Call Me Back
Tasting Notes
Color
Juice golden color with green reflections.
Taste
The taste of the juice is fresh, velvety, not too sweet, with a characteristic sour apple, light texture.
Aroma
Juice with delicate apple flavor.
Gastronomy
Juice is ideal for a healthy breakfast, a light lunch, to quench your thirst or as a component of cocktails.
Interesting Facts
The classic line of natural 100% juices recovered "premium" class without sugar branded Yoga presented orange, apple, grapefruit, pineapple and tropical flavors. Juices made from fruits and vegetables grown in Italy (with the exception of exotic imported from Spain and other countries). All products were tested and treated carefully, quality control is performed on the 50 stages of production.

The company "Yoga" has long been synonymous with natural juices and nectars of the highest quality, to convey the true taste of sunny Italy! High quality juices Yoga allowed to become the leader of the Italian market of juices and juice of the most famous Italian in the world. For more than 60 years, since 1948, thanks to the experience gained and the latest European technologies "Yoga" preserve in their natural juices, natural taste of fruit, rich in vitamins and energy of the sun. Fruits and vegetables beverage grown in accordance with the standards of quality in Italy (with the exception of exotic imported from Spain and other countries), are thoroughly tested. After harvesting the fruit for 24 hours are harvested for preservation of their natural properties.
Yoga Optimum Series nectars and berry nectar Yoga have the highest content of fruit share from competitors in the Russian market. Juices and nectars Yoga - not only useful but also very tasty drink that will delight both children and adults!
In our store you can buy juice Yoga, Mela, 200 ml, price Yoga, Mela, 200 ml — $ 36. Producer juice Yoga. Delivery Yoga, Mela, 200 ml.