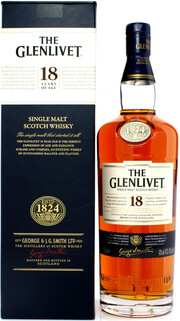 You can

Notify Availability
Region:

Producer:

Brand:

Strength:

Type:

Filtration:

Exposure:

Barrel aging:
Order by phone
+7 (495) 988-45-58
Call us
Our wine consultant (sommelier) will help you choose the wine to the table or as a gift. And will respond to all your questions on the wines.
Call Me Back
Tasting Notes
Color
Whiskey old gold color with hints of ripe apricots.
Taste
Whisky has a smooth, velvety, robust taste with delicate tones of malt and a slight shade of fruit. On the palate notes of spices and felt - ginger, white pepper and oak notes. When water is added flavor becomes more sweet and spicy oak notes retreat, and at the forefront of ginger. A long, dry finish with hints of oak.
Aroma
Whiskey has a rich, elegant and complex aroma with oak sweetness and floral notes of peony and freesia. The aroma is also perceptible notes of toffee, chocolate mint and berries.
Gastronomy
Whiskey is a great digestif.
Interesting Facts
The Glenlivet 18 years - single malt whiskey over 18 years from the oldest distillery in Scotland - Glenlivet. Glenlivet whiskey has long been famous throughout the world and is considered a benchmark for the rest of scotch Scotland. It is also called "whiskey that started it all", because it is a brand Glenlivet Single Malt Scotch began the history of whiskey. Among the admirers of whiskey Glenlivet was listed himself George IV - King of England, who demanded to the table certainly this drink.
Whiskey awarded the Gold Medal in 2002 and 2003, silver medals in 2004 and 2006, silver in the category of "Best in Class" at the International Wine & Spirit Competition; Gold medals in 2002, 2003, 2005, 2006, 2007, 2008 and Awards at the 2006 International Spirits Challenge; twice won the Gold Medal in 2008 and the Gold Medal in 2003 and the Silver Medal at the 2007 San Francisco World Spirits Competition; awarded by Scottish Field Magazine Whisky Merchants' Challenge in 2007.
In our store you can buy whisky The Glenlivet 18 years, with box, 1 L. Producer whisky The Glenlivet. Delivery The Glenlivet 18 years, with box, 1 L.