Glass Spiegelau "Beer Glasses", Germania, 300 ml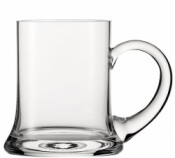 Region:

Producer:

Series:

Strength:

Height:

Diameter:

Made from:

Method of production :

Suitable for:
Order by phone
+7 (495) 988-45-58
Call us
Our wine consultant (sommelier) will help you choose the wine to the table or as a gift. And will respond to all your questions on the wines.
Call Me Back
Interesting Facts
Concise form glasses Germany from the collection of "Beer Glasses" has its name reminiscent of the Oktoberfest beer festival and Cannstatter Volksfest, which is famous for Germany. These glasses will demonstrate perfectly the color and flavor of your favorite light and dark beers, and they will not allow a small amount of warm beer. The ergonomic handle is easy to hold a glass, and slightly expanded base for extra stability without interfering enjoy peace of conversation among friends.
You can be absolutely sure about the quality and sustainability of glasses, because their production is used for crystal glass (crystalline), does not contain lead. Additional same advantages is that products from Spiegelau Beer Glasses are more durable, do not turn yellow over time, and retain the unique characteristics of crystal - its unique jingle and shine.

Company Spiegelau more than five centuries perfected craftsmanship glasses, bringing innovations and the most advanced technology in their production. Spiegelau glasses gorgeous ideal for modern lovers of wine and other beverages. Spiegelau offers a wide range of glasses that are both beautiful from an aesthetic point of view and in terms of practicality and reliability. This explains why Spiegelau wine glasses decorated with so many restaurants around the world. The shape and size of each cup is designed with incredible attention to detail - in order to enhance the character of each beverage. Elegance, functionality and durability - the characteristics of the products manufactured by Spiegelau.
In our store you can buy glasses and decanters Spiegelau "Beer Glasses", Germania, 300 ml, price Spiegelau "Beer Glasses", Germania, 300 ml — $ 26. Producer glasses and decanters Spiegelau. Delivery Spiegelau "Beer Glasses", Germania, 300 ml.