Spiegelau "Bacchus" Jug with Ice-Lip, 1 L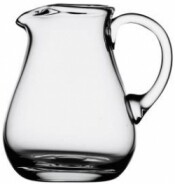 Order by phone
+7 (495) 988-45-58
Call us
Our wine consultant (sommelier) will help you choose the wine to the table or as a gift. And will respond to all your questions on the wines.
Call Me Back
Interesting Facts
Elegant series of pitchers Bacchus (Bacchus) is presented in a classic design. Used for their production crystal glass containing no lead, so pitchers fine workmanship and reliability, while maintaining the characteristics of the crystal - an incomparable brilliance and ringing; they can be washed in the dishwasher.
Jug "Bacchus" 1000 ml can be used for milk, juice, wine and other beverages. With its unique design, this pitcher will last a very long time and will please their owners and from an aesthetic and a functional point of view.
Spiegelau company remains true to the traditions of excellence and dedicated to innovation and advanced technologies. Spiegelau produces excellent wine glasses and tableware for everyday use. Products Spiegelau simultaneously beautiful from an aesthetic point of view and in terms of practicality and reliability. This explains why products Spiegelau adorns so many restaurants around the world.
Elegance, functionality and durability - the characteristics of the products manufactured by Spiegelau.
In our store you can buy glasses and decanters Spiegelau "Bacchus" Jug with Ice-Lip, 1 L, price Spiegelau "Bacchus" Jug with Ice-Lip, 1 L — $ 63. Producer glasses and decanters Spiegelau. Delivery Spiegelau "Bacchus" Jug with Ice-Lip, 1 L.