Liqueur "Sheridan's", 0.7 L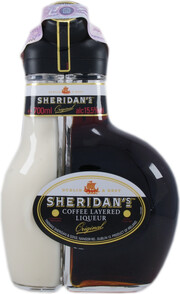 Region:

Brand:

Strength:

Producer:

Style:

Volume:
Order by phone
+7 (495) 988-45-58
Call us
Our wine consultant (sommelier) will help you choose the wine to the table or as a gift. And will respond to all your questions on the wines.
Call Me Back
Tasting Notes
Color
One of the bottle with vanilla-flavored cream - cream color. Another, with coffee liqueur - the color of dark whiskey.
Taste
Sheridan's has a sweet vanilla-flavored coffee.
Aroma
Nice creamy coffee aroma.
Gastronomy
This liqueur can be drunk neat, pouring into the glass layers. Goes well in cocktails and coffee.
Interesting Facts
Sheridan's - perhaps one of the most unusual in the world of spirits. This is a unique two-layer liqueur. One (top) third of this liquor - a vanilla cream liqueur. Two (bottom) of the third - dark coffee liqueur based on Irish whiskey. Sheridan's unique bottle, consisting of two vessels allows for pouring preserve the desired proportions of these two liqueurs and properly position them in relation to each other.
Producer's description
Production facilities for the production of liquor are in Dublin and belong to the company "Thomas Sheridan & Sons" . Immediately, within these walls, no less famous "Baileys" is born. "Sheridan's" appeared on sale in 1994 and since then firmly holds positions in the market, continuing to win the love of consumers due to its high quality, unique design and excellent taste. Today, the rights to the brand "Sheridan's" belong to the company "Diageo".
In our store you can buy liqueur "Sheridan's", 0.7 L, price "Sheridan's", 0.7 L — $ 33. Producer liqueur Sheridan's. Delivery "Sheridan's", 0.7 L.