Gift Box Scotton, Cantinetta "Seta Bordeaux" for 2 bottles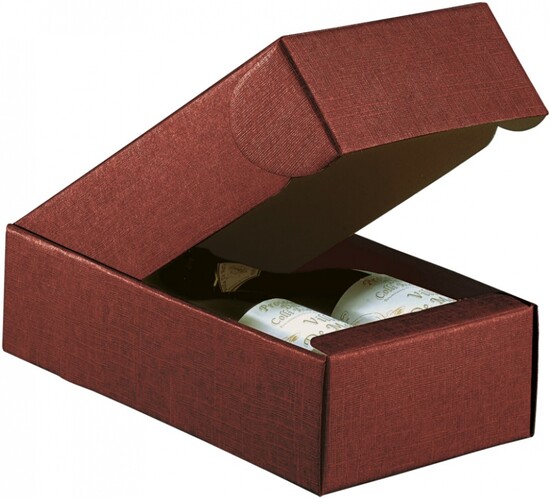 Interesting Facts
Scotton, Cantinetta "Seta Bordeaux" for 6 bottles
- an elegant gift box burgundy, designed for 6 bottles of wine 750 ml each. Manufacturer of packaging is a famous Italian company Scotton.

Receive gifts like many of us, while we pay attention not only to myself a present, but also for its design. Beautiful maroon box Scotton chosen for the presentation of good wine, will allow adequately to present a gift to the distinguished man.
Scotton
history began in 1974. Then the company for the first time to create an exclusive gift box for wine made from corrugated cardboard and embossed. It was Christmas themed packaging produced to order. Since then, the company's founder, Mark Scotton, constantly expanding its business. The company, which appeared on the international market, produces original and stylish gift packaging, with special attention to the quality and continuously increasing range of products. Scotton offers many collections of gift packages for all occasions - Christmas and New Year, wedding, birthday, anniversary, and other celebrations.
Experience the bold experiments and innovative technologies are not only the basic principles of the philosophy of the brand, but also the driving force for success.
The entire production process when creating packaging occurs within the company. He starts with an idea and creating a layout, after which the samples are sent to the press and subjected to various processing steps. Storage of finished products also occurs in the walls of the enterprise. This approach allows us to achieve the highest quality standards.
Scotton headquarters is located in Treviso. In 2001 there was opened a large warehouse, located on the slopes of Monte Grappa. The entire complex includes production facilities, offices and showroom.
In addition, the manufacturer cares about the environment, so the products are environmentally friendly Scotton.
In our store you can buy gift pack Scotton, Cantinetta "Seta Bordeaux" for 2 bottles, price Scotton, Cantinetta "Seta Bordeaux" for 2 bottles — $ 7. Producer gift pack Scotton. Delivery Scotton, Cantinetta "Seta Bordeaux" for 2 bottles.