Vodka "Russian Standard" Gold, Box, 0.7 L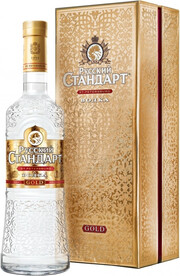 Region:

Producer:

Brand:

Brand line:

Volume:

Type:

Class:
Order by phone
+7 (495) 988-45-58
Call us
Our wine consultant (sommelier) will help you choose the wine to the table or as a gift. And will respond to all your questions on the wines.
Call Me Back
Tasting Notes
Taste
Has a velvety, smooth taste, which felt a light creamy tone. The finish is warm, warming.
Aroma
Due to the multi-stage cleaning has a soft rounded aroma with a light vanilla note.
Gastronomy
Perfectly suited to the hodgepodge, ear, hot and cold dishes of meat and fish. Fish is best served salmon, pink salmon, salmon, herring and salmon and sturgeon. Blends perfectly with caviar, pickled mushrooms and cucumbers, as well as stuffed pancakes and grilled vegetables.
Interesting Facts
Before you enter the market with a new product, the specialists of "Russian Standard" for several years developed a unique recipe of vodka "premium", "Russian Standard Gold." It was first presented in the fall of 2008 and immediately won the hearts of consumers.
For its production using the best winter wheat and pure glacial water of Lake Ladoga. Thanks to a four-filtration using charcoal filters, vodka "Russian Standard Gold" has a pure and mild flavor and ginseng extract gives its tonic properties and makes any holiday brighter and happier.
Luxury gift box with embossed gold ornaments, made in the style of the palace is a spectacular frame of vodka "Russian Standard Gold" and embodies the traditions of Russian generosity and hospitality. This gift will be appreciated at its true worth culprit celebration and decorate any festive meal.
In our store you can buy vodka "Russian Standard" Gold, Box, 0.7 L, price "Russian Standard" Gold, Box, 0.7 L — $ 23. Producer vodka Russian Standard. Delivery "Russian Standard" Gold, Box, 0.7 L.