Wine Bodegas Vega Sicilia, Ribera del Duero DO "Valbuena 5", 2006, wooden box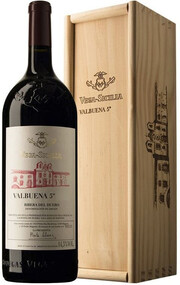 Wine:

Region:

Producer:

Strength

Volume:

Grape varieties:
Order by phone
+7 (495) 988-45-58
Call us
Our wine consultant (sommelier) will help you choose the wine to the table or as a gift. And will respond to all your questions on the wines.
Call Me Back
Tasting Notes
Color
Wine rich garnet color with violet edging
Taste
Balanced, harmonious with velvety tannins and bright shades of red fruit wine. Highlights of a long aftertaste.
Aroma
Bright, intense aroma with notes of blueberry, blackberry, hints of balsamic and spicy notes of oak.
Gastronomy
Wine is perfect for soups, vegetable dishes, poultry, such as chicken, and grilled or stewed meat, rice with herbs, lobster, lamb.
Interesting Facts
A blend of Spanish red wine "Valbuena 5" (Valbuena 5) consists of the dominant variety Tinto Fino with a small addition of Merlot and Cabernet Sauvignon collected from young vines are grown on clay-limestone and alluvial soils in Valbuena de Duero. After careful selection of harvested grapes are fermented in oak and steel containers at a temperature of about 30 ° Dali should malolactic fermentation in neutral vessels. Aged wine P27 months of the year in barrels of American and French oak. However, only at the beginning of exposure used new barrels. Due to such a complex production process, as well as the excellent potential of the wine will continue to open at least 20-25 years.
Each bottle of wine has its own serial number.
In 1848 landowner Toribio Lekanda bought Marquis Valbuena 2000 ha farm. Son of Toribio, Eloy Lekanda acquires Bordeaux 18000 shoots grape varieties Merlot, Cabernet Sauvignon, Malbec and Pinot Noir, decided to begin production of brandy and liqueurs. For the quality of brandy in 1876. Eloy Lekanda receives a certificate and also became a supplier of the Royal Family. In 1880 he was awarded the Grand Cross of Isabel the Catholic. All this happened long before the creation of wines that glorified farm.
In 1904, Domingo Garramiola Thomin rents farm owned by the family in those days Herrero. Domingo has played an important role in the history of Vega Sicilia, in the production of wines of Bordeaux, he used technology. In 1915 the winery created here Domingo Garramiola produces two great wines: Vega Sicilia and Valbuena. The first wines were presented with the upper class of the bourgeoisie and the aristocracy, but not for commercial purposes. The owners of the winery offered this wine as a gift to my best friends. So began to take shape the legend of the most exclusive wines of Spain, which is impossible to get for the money. In 1929, Vega Sicilia wines are recognized at the World Exhibition in Barcelona, ​​were awarded the 1917 harvest and 1918.
In 1982 the farm buys Alvarez family, which, along with the traditional production process begins to apply modern technology. Were also significantly expanded the vineyards. In 1998, a group of technical control winery joins Ausas Javier, who has worked for 6 years oenologist. Javier together with Begosa Hovelyarom strengthened popularity and quality wines economy. In 2000 he founded the organization Primum Familiae Vini, it included 11 of the most prestigious wine producers, many of whom were farm Vega Sicilia.

Today, the vineyard area of ​​the farm is 250 hectares, 80% of the area given over to Tinto Fino, and the rest of the grown Cabernet Sauvignon, Merlot and Malbec. The farm is located in Balbuena de Duero, in the province of Valladolid, on the banks of the river. Winery retains the form of an old mansion. In the interior there is a chapel of Santa buildings Sifiliya, who created the original owners. It is believed that the winery got its name in honor of the chapel.
Vega Sicilia produces a truly unique wines that keep the great Spanish tradition. They are distinguished by elegance, grace, power and a pronounced ability to maintain their individual characteristics during prolonged storage in the bottle. Vega Sicilia produces its wines only in the most successful years, ensuring consistent quality of its products.
In our store you can buy wine Bodegas Vega Sicilia, Ribera del Duero DO "Valbuena 5", 2006, wooden box, price Bodegas Vega Sicilia, Ribera del Duero DO "Valbuena 5", 2006, wooden box — $ 214. Producer wine Bodegas Vega Sicilia. Delivery Bodegas Vega Sicilia, Ribera del Duero DO "Valbuena 5", 2006, wooden box.