Sparkling wine Pol Roger, Brut Reserve, gift box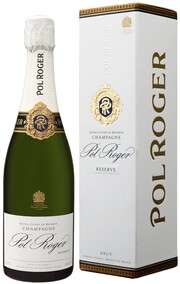 You can

Notify Availability
Order by phone
+7 (495) 988-45-58
Call us
Our wine consultant (sommelier) will help you choose the wine to the table or as a gift. And will respond to all your questions on the wines.
Call Me Back
Tasting Notes
Color
Champagne beautiful straw-gold color with good perlyazhem.
Taste
Champagne has a pleasant, fresh, complex, well-balanced taste with hints of citrus and tropical fruits, with a distinctive aftertaste.
Aroma
The luxurious fragrance of champagne felt floral and sweet citrus notes combined with hints of honey, peaches, almonds, baking and mineral flavor.
Gastronomy
Champagne great as an aperitif or as an accompaniment of exquisite dishes of fish and seafood.
Interesting Facts
Champagne Brut "Extra Cuvee de Reserve" - a great example of impeccable style and high quality wines House Roger. A blend of champagne, which is still in 1849 was named "White Foil", consists of 30 base wines from three grape varieties - Chardonnay, Pinot Noir and Pinot Meunier different years of crop collected from the best vineyards in Champagne. Pinot Noir gives Champagne density, tannins and depth of character, Pinot Meunier energizes and freshness, and Chardonnay adds lightness and elegance. Champagne combines exceptional balance of freshness and windy aristocratic complexity. In the production of champagne spend long fermentation at a controlled temperature in the deep cellars. Remuage champagne is only manually blend is kept in the cellar for at least three years. Such prolonged exposure allows the wine to express the most subtle nuances of flavor. Champagne "Brut Reserve" has a great storage capacity.

History of Pol Roger - one of the best Champagne houses - began over 150 years ago. House "Pol Roger" is located in the heart of Champagne - Epernay. Throughout its history the house was owned by only one family. Today Champagne house belongs to the founders of the great-grandchildren - Christian de Billy and Christian Pol Roger. "Pol Roge" owns more than 80 hectares of vineyards located in the best areas of the Champagne region, and 60% self-sufficient in grapes for wine production. The rest of the grapes purchased from farmers with whom House "Pol Roger" has been cooperating for a long time. This allows you to monitor the quality of the initial stage of the production of champagne.

The history of "Pol Roger" is closely linked with the name of the famous Englishman - Sir Winston Churchill, who was drinking champagne "Pol Roger" already in 1908. Known esthete, he preferred it to all other wine and remained loyal to him throughout his life. Famous catch phrase of Winston Churchill: "I can not live without champagne. After the victory I deserve it, and after the defeat I need it." In honor of his name since 1975 produces unique champagne "Sir Winston Churchill" - one of the rarest in the world cuvee. House "Pol Roger" supplies of wine to the court of Queen Elizabeth II. Continue the glorious series of fans of the brand such eminent persons as the billionaire Rockefeller, the legendary French President Charles De Gaulle. This is not surprising, because the brand "Pol Roger" is considered one of the most prestigious - is the highest quality champagne, elegant and noble style.
In our store you can buy sparkling wine Pol Roger, Brut Reserve, gift box, price Pol Roger, Brut Reserve, gift box — $ 58. Producer sparkling wine Pol Roger. Delivery Pol Roger, Brut Reserve, gift box.