Champagne Moet & Chandon, Brut "Imperial", with wooden box,
3 L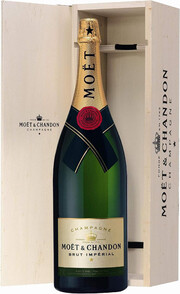 You can

Notify Availability
Sparkling wine/champagne:

Region:

Producer:

Strength

Volume:

Grape varieties:
Order by phone
+7 (495) 988-45-58
Call us
Our wine consultant (sommelier) will help you choose the wine to the table or as a gift. And will respond to all your questions on the wines.
Call Me Back
Tasting Notes
Color
Light yellow, with a greenish tinge.
Taste
This champagne has a distinct taste of grapes Pinot.
Aroma
Delicate aroma of lime and flowering vines.
Gastronomy
Ideal as an aperitif. Excellent with fish dishes, seafood appetizer, goat cheese, cheese Brie. A wonderful addition to a light dessert and fruit.
Interesting Facts
Moet & Chandon Brut Imperial - a classic combination of three champagne grape varieties: Chardonnay, Pinot Meunier and Pinot Black. This elegant, perfectly balanced and sustained for three years Champagne is considered one of the leading sparkling wine: every 2 minutes in the world of open bottle of Moet & Chandon Brut Imperial. This brand Moet Chandon has very high ratings of independent experts.
Moet Chandon Brut Imperial in a large 3-liter bottle will be the exquisite decoration festive table. Try to use it for the execution of focus "pyramid". Experienced sommeliers do so: build a shape of wine glasses, a bottle is placed on a special stand, overturn it, and in one fell swoop all the glasses filled. Surprise your guests!
Producer's description
The history of the company Moet & Chandon began in 1743, when Claude Moyet began supplying wine from Champagne to Paris and other French cities. The era of the reign of Louis XV coincided with the growing demand for sparkling wine. Therefore, Claude's business is expanding rapidly, and by the end of the 18th century, he had already exported champagne throughout Europe and even to the United States. Claude's grandson - Jean-Remy Moet has earned the attention of such elite customers as Thomas Jefferson and Napoleon Bonaparte. The name Chandon was added to the company in 1832, when Jean-Remy Moet divided the company between his son Victor and son-in-law Pierre-Gabriel de Briayet Chandon.

Moet & Shandon is an unalterable attribute of high life all over the world. In 1971, Moet & Shandon teamed up with Hennessy Cognac House, in 1987 with Louis Vuitton. As a result, LVMH (Louis-Vuitton-Moet-Hennessy) holding, the largest Luxury Group in the world, was established, uniting such famous brands as Guerlain, Christian Dior, Givenchy, Kenzo, Christian Lacroix, Hennessy, Louis Vuitton and many others.
In our store you can buy wine Moet & Chandon, Brut "Imperial", with wooden box, 3 L, price Moet & Chandon, Brut "Imperial", with wooden box, 3 L — $ 383. Producer wine Moet Chandon. Delivery Moet & Chandon, Brut "Imperial", with wooden box, 3 L.