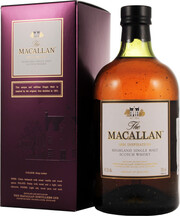 Region:

Producer:

Brand:

Strength:

Type:

Exposure:

Barrel aging:
Order by phone
+7 (495) 988-45-58
Call us
Our wine consultant (sommelier) will help you choose the wine to the table or as a gift. And will respond to all your questions on the wines.
Call Me Back
Tasting Notes
Color
Antique gold color.
Taste
Macallan 1851 Inspiration has a mild flavor, which infused malt sweetness, spiciness of ginger and cloves. Moderately long finish with the sweetness of the malt.
Aroma
The aroma of whiskey with floral, fruity and malty notes that blend harmoniously with ginger, walnut and vanilla undertones.
Gastronomy
To experience all the flavors of the whiskey is better to drink it in its pure form. To taste, you can add water or ice.
Interesting Facts
Macallan - the oldest luxury Scottish single malt whiskey. Its ideal reputation formed by the best masters of their craft for nearly 200 years.
Macallan 1851 Inspiration (Macallan 1851 Inspiration) - whiskey, symbolizing the time of innovation and change, a time when winemakers used many different types of barrels, creating a variety of whiskey tastes. Bottle of the drink - perfect reproduces features of the original packaging Macallan that time.
At the last auction of vintage alcohol in Glasgow in 2009, a bottle of whiskey Macallan 50 Year Old was sold at auction for an impressive 11,750 pounds, thus becoming the most expensive bottle of whiskey Macallan ever sold.
Vicki Macallan - an indispensable attribute of luxury and style!
In our store you can buy whisky Macallan 1851 Inspiration, with box, 0.7 L, price Macallan 1851 Inspiration, with box, 0.7 L — $ 189. Producer whisky Macallan . Delivery Macallan 1851 Inspiration, with box, 0.7 L.