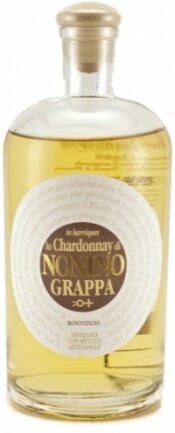 Region:

Producer:

Strength:

41%

Volume:
Order by phone
+7 (495) 988-45-58
Call us
Our wine consultant (sommelier) will help you choose the wine to the table or as a gift. And will respond to all your questions on the wines.
Call Me Back
Tasting Notes
Color
Amber, which grappa acquires in the course of aging in oak barrels.
Taste
Grappa di Nonino Lo Chardonnay has a very soft, delicate flavor that captivates notes of chocolate and roasted almonds.
Aroma
Aroma reveals notes of vanilla, fresh bread and sweet pastries.
Gastronomy
Due to its exquisite taste Luo Chardonnay di Nonino is a great digestif, which can be used in combination with desserts, ice cream, candied fruits, as well as used as a base for cocktails. Serve grappa is recommended at 12C in a glass tulip shape, so it can reveal the most delightful bouquet of aromas.
Interesting Facts
Grappa Lo Chardonnay di Nonino produced in strictly limited quantities, which depends on the quantity and quality of the harvest. To create a grappa uses only the finest Chardonnay grown in one of the most famous industrial zones category DOC - Colli Orientali del Friuli (Solli Orientali del Friuli). Here are the best vineyards, which terraces down the slopes of the valley, and in terms of climate and soil are ideal for the cultivation of white grapes. Fermentation drink conducted in steel tanks at a controlled temperature, and distillation takes place immediately after fermentation in special alambikah intermittent modernized Benito Nonino. The process is slow, allowing you to select and condense the necessary fractions responsible for flavor and aroma characteristics of the future of grappa. Refining lasts from 6 months to 1 year in the open glass containers, and then grappa is aged in small oak barriques.
Try exquisite grappa Lo Chardonnay di Nonino that despite the high alcohol content will enchant you notes of chocolate and almonds, which warms razvvivayutsya soft finish.
In our store you can buy grappa Lo Chardonnay di Nonino in Barriques Monovitigno, 0.7 L, price Lo Chardonnay di Nonino in Barriques Monovitigno, 0.7 L — $ 44. Producer grappa Nonino. Delivery Lo Chardonnay di Nonino in Barriques Monovitigno, 0.7 L.