Whisky "Jack Daniel's", in box with 2 glasses, 0.7 L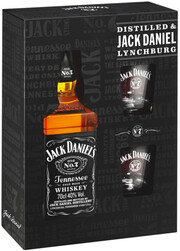 Region:

Producer:

Brand:

Strength:

Type:

Filtration:

Barrel aging:
Order by phone
+7 (495) 988-45-58
Call us
Our wine consultant (sommelier) will help you choose the wine to the table or as a gift. And will respond to all your questions on the wines.
Call Me Back
Tasting Notes
Taste
Characterized by mild flavor combines caramel-vanilla and woody notes. Light taste of smoke.
Aroma
The aroma of whiskey fairly easy and smooth, with a pleasant sweetness, notes of spices, nuts, buttery shades, smoky nuances.
Gastronomy
Jack Daniels whiskey drink neat cubes lda.Mozhno add soda or just water. Appropriate selection of cocktails.
Interesting Facts
Whiskey "Jack Daniels" - a drink with a rich history. Over the last half century it is created on the old technology, while maintaining individual style and with unfailing loyalty to the motto of its founding father of Jack Daniel's: "Every day until we do, we will do it as best as we can." Special mild flavor and aroma to this whiskey gives a number of components - the purest spring water, fermentation on sour mash, a unique way to filter through the three-meter layer of compacted coal made from sugar maple, aging in American oak barrels. This time-consuming and expensive process distinguishes American whiskey "Jack Daniels" from ordinary bourbons. Feel the true spirit of America is simple! You just need to try unique Tennessee whiskey "Jack Daniels"!

The distinctive character of whiskey "Jack Daniels" in this set is underlined stylish metal box, and two additional branded cups make this kit prestigious and memorable gift. Whiskey flavor characteristics mentioned many times in exhibitions and competitions gold medals. The first of these was the gold medal at the World's Fair in St. Louis in 1904. A long list of distinguished gold medals can be seen on any bottle of Jack Daniels Old No.7.
In our store you can buy whisky "Jack Daniel's", in box with 2 glasses, 0.7 L, price "Jack Daniel's", in box with 2 glasses, 0.7 L — $ 43. Producer whisky Jack Daniels. Delivery "Jack Daniel's", in box with 2 glasses, 0.7 L.