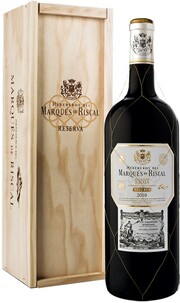 Order by phone
+7 (495) 988-45-58
Call us
Our wine consultant (sommelier) will help you choose the wine to the table or as a gift. And will respond to all your questions on the wines.
Call Me Back
Tasting Notes
Color
Wine intense, deep cherry-black.
Taste
The taste of wine is fresh, easy drinking, with an excellent structure, polished tannins and a long, persistent finish with balsamic nuances.
Aroma
The wine has an expressive aroma with notes of licorice, cinnamon and black pepper, with subtle nuances of aging in oak barrels and fruity notes.
Gastronomy
The wine is best served with grilled or stewed meat, poultry. It is recommended in conjunction with cheeses.
Interesting Facts
Wine "Herederos del Marques de Riscal" Reserva is made ​​from Tempranillo grapes, to which is added a small proportion of Graciano and Mazuela. This grape vines over 15 years old and are grown in the best clay-limestone soils of the estate. Tempranillo is resistant to aging in oak barrels and bottles, thanks to a good balance of acidity and pleasant tannins. Varieties Graciano and Mazuela, whose share in the wine in the amount of not more than 10%, add wine brightness and vibrant color. Fermentation takes place at a controlled temperature of 26 ° C and never maceration takes more than 12 days. Wine is aged 25 months in American oak barrels, so get a drink, corresponding to the classical style of Rioja: fresh, pleasant, delicate, elegant and able to be stored for many years. Before starting the wine on sale, it is kept at least 12 months in the bottle.

Marques de Riscal - exemplary Rioja winery: excellent wines, long story, favorite now in Spain unique modern architecture and the ability to do all that is needed, regardless of the opposition and ridicule. The owners of Marqués de Riscal winery like to call their "chateau of the XXI century." To phrase the meaning was clear to everyone on the estate was built by the "City of Wine." This cyclopean construction of the famous Frank Gehry with metal tricolor "frills" has become one of the symbols of the new Rioja - the stories, Gary was ready to withdraw from the project, but when tasted wine Marqués de Riscal Reserva 1929, produced in the year of birth of the architect admitted "I just can not tell you no."
In our store you can buy wine "Herederos del Marques de Riscal" Reserva, Rioja DOC, 2010, wooden box, 1.5 L, price "Herederos del Marques de Riscal" Reserva, Rioja DOC, 2010, wooden box, 1.5 L — $ 63. Producer wine Marques de Riscal. Delivery "Herederos del Marques de Riscal" Reserva, Rioja DOC, 2010, wooden box, 1.5 L.