Cognac Henri Mounier V.S., gift box, 0.5 L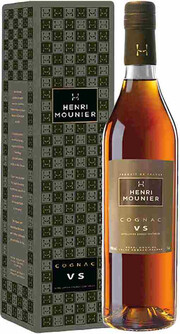 Region:

Producer:

Brand:

Strength:

Volume:

Cognac class:

Exposure:
Order by phone
+7 (495) 988-45-58
Call us
Our wine consultant (sommelier) will help you choose the wine to the table or as a gift. And will respond to all your questions on the wines.
Call Me Back
Tasting Notes
Taste
Cognac has a refined, harmonious taste with fruity notes.
Aroma
Cognac has a wonderful aroma with delicate notes of vanilla, fruit and almonds.
Gastronomy
Cognac goes well with tonic or soda water with ice.
Interesting Facts
Henri Mounier VS Cognac is made from young and energetic spirits aged in oak barrels for at least 2 years. Henri Mounier - a brand created in honor of the founder of the cognac house H. Mounier, Henri Mounier. The range of these products are of highest quality and elegance, reflecting the character and reputation of Henri Mounier, who had an unwavering commitment to quality by controlling every step in the production of brandy.
H. Mounier company was founded in 1858, like every cognac house, N. Mounier has its secrets and peculiarities of production that determine the success of our products. The company uses Mounier barrels of Limousin and tronseyskogo oak extract which gives the brandy a special character in the manufacture of barrels pays special attention to the temperature of the heating, because it affects the aroma and flavor characteristics of the future cognac. For young cognac VS class used barrels from aromatic, Limousin oak, which, when exposed to moderate heat manufacture, so drink acquires bouquet with notes of vanilla, coffee and almonds. House N. Mounier collaborating with producers who have vineyards in four regions, so the company has a wide selection of distillates, creatively using them to create high quality cognacs.
In our store you can buy cognac Henri Mounier V.S., gift box, 0.5 L, price Henri Mounier V.S., gift box, 0.5 L — $ 30. Producer cognac Henri Mounier. Delivery Henri Mounier V.S., gift box, 0.5 L.