Whisky "Glenmorangie" The Original, gift box, 3 L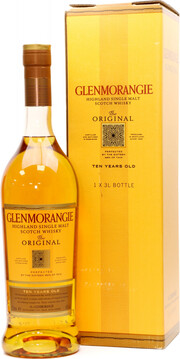 Region:

Producer:

Brand:

Brand line:

Strength:

Type:

Filtration:

Exposure:

Barrel aging:
Order by phone
+7 (495) 988-45-58
Call us
Our wine consultant (sommelier) will help you choose the wine to the table or as a gift. And will respond to all your questions on the wines.
Call Me Back
Tasting Notes
Color
Light golden color of whiskey.
Taste
Balanced taste of whiskey with notes of walnut and honey flavor. Cuddly soft and clean aftertaste
Aroma
Sophisticated fragrance with hints of mandarin, vanilla and a hint of faint smoke. Floral scent prevails, but there are bread notes.
Gastronomy
Glenmorangie The Original fine drink with tonic or water. You can add a little ice
Interesting Facts
Glenmorangie The Original - the youngest whiskey Glenmorangie, kept his ten years in barrels of bourbon. Specialists distillery sure that at least as much time is necessary for the full development of the bouquet. This whiskey is full of delicate flavors, it has many faces and is able to intrigue. It is no coincidence, "one leading Parisian perfumer has identified a 10-year-old Glenmorangie more than 26 individual flavors of apricot and bergamot to cinnamon and quince."
Producer's description
Glenmorangie Company became one of the leading world producer of Scotch whiskey, has a long and fascinating way. Even in 1843 the brothers Metison was created Distillery. In the second half of the 19th century came the products exported to Europe and America. But because of the great depression and ban the sale of alcohol in America, in 1931 the plant was closed and remained closed until November 1936, while the company Macdonald and Muir Ltd not bought it and continued to work. And in 2005, Glenmorangie becomes part of a world leader company Moët Hennessy-Louis Vuitton. To some extent, Glenmorangie has been a pioneer in aging whiskey in the wood. They are and will be conducted hundreds of experiments with different types of wood in search of the perfect drums for vintage whiskey. Tireless dedication to innovation, combined with the success of its products has allowed the company Glenmorangie be in the lead. Their products are awarded numerous awards at prestigious international competitions.

Glenmorandzhi company continues to grow in all areas, constantly strive to improve the quality of its products to meet consumers and achieve sustainable and profitable business growth.
In our store you can buy whisky "Glenmorangie" The Original, gift box, 3 L, price "Glenmorangie" The Original, gift box, 3 L — $ 231. Producer whisky Glenmorangie. Delivery "Glenmorangie" The Original, gift box, 3 L.