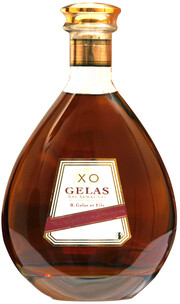 Order by phone
+7 (495) 988-45-58
Call us
Our wine consultant (sommelier) will help you choose the wine to the table or as a gift. And will respond to all your questions on the wines.
Call Me Back
Tasting Notes
Color
Armagnac bright amber color.
Taste
Armagnac has a harmonious, smooth taste with a hint of spicy almond.
Aroma
In the complex aromas of Armagnac felt tones of vanilla and chocolate.
Gastronomy
Armagnac is perfect as a digestif, combined with coffee and cigars.
Interesting Facts
Armagnac
Gelas "Bas Armagnac" XO
is made ​​by classical technology from French spirits, who range in age from 18 to 25 years, aged in oak barrels.
House
Gelas,
based Baptist Zhelasom in 1865, is the last family armanyachnym House in Gascony, where tradition and the ability to produce this magnificent drink passed down from generation to generation. Today, the company manages the great-grandson of Baptist Zhelasa - Philip Zhelas, fourth-generation family Zhelas. He began production monosepazhnyh Armagnac thus emphasizing the uniqueness of the house Zhelas.
The house
Zhelas
specializing in producing high quality Armagnac, kept an impressive collection millezimnyh Armagnac from 1865 to 1993. House Zhelas produces traditional Armagnac line with 8, 12, 18, and 25-year delay, millezimnye armagnac, exclusively in oak barrels and unfiltered monosepazhnye Armagnac three types: Folle Blanche, Ugni Blanc and Bako. In Europe Armagnac Zhelas can be found only in those restaurants which have a Michelin star. Excellent Armagnac from armanyachnogo home Zhelas will be a perfect gift for all occasions and celebrations!
In our store you can buy armagnac Gelas, "Bas Armagnac" XO, 0.7 L, price Gelas, "Bas Armagnac" XO, 0.7 L — $ 75. Producer armagnac Gelas. Delivery Gelas, "Bas Armagnac" XO, 0.7 L.