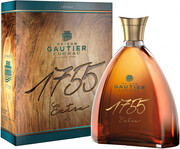 Order by phone
+7 (495) 988-45-58
Call us
Our wine consultant (sommelier) will help you choose the wine to the table or as a gift. And will respond to all your questions on the wines.
Call Me Back
Tasting Notes
Color
Cognac deep amber color.
Taste
Taste skate demonstrates a perfect balance of elegance and fortress. This cognac gives generous fruit and velvety notes, with a long finish.
Aroma
Cognac has elegant floral aromas, combining complex spicy notes with soft vanilla.
Gastronomy
Cognac is recommended to taste pure and ice.
Interesting Facts
Amazing Cognac Gautier XO Extra 1755 was created on the occasion of the 250th anniversary of the House of Gaultier and a tribute to its founder - Louis Gauthier. A distinctive feature of brandy is that it is created from the oldest, exclusive cognac, some of them were born in the legendary "Paradise" cellar. Gautier Cognac XO Extra 1755 - excellent brandy to the complexity and richness of flavor. His gorgeous decanter, underlined the warm gold, reveals the richness and depth of amber precious contents. It is a prestigious gift for the true connoisseurs of cognac.
Awards Gautier XO Extra 1755:
Silver Medal - Concours Mondial, Brussels, Belgium, 2009;
Gold Medal - Concours Général Agricole, France, 2009.

House Gauthier - one of the oldest manufacturers of brandy in France. In 1644 the family settled in the town of Gautier EGR and began winemaking. In 1755, Louis XV signed the letter, according to which Louis Gauthier received assent on the production of brandy. This manuscript stores already several generations old family cognac producers. To date, Gauthier House is owned by Marie Brizzard & Roger International. For the production of cognac using grapes that grow in the best areas of the Cognac region: Petite Champagne, Borderies, Grande Champagne and Fen-Bois. Grapes from the Grande Champagne cognac transmits odors flowering vines, grapes from Petite Champagne Cognac endows the smell of berries, grapes from Feng-Bois cognac passes the smell of dried flowers, grapes from Borderies adds to the bouquet of forest notes of violets.
Brandy is kept in barrels made from wood century-old oaks, which grow only in the forests of Limousin and Tronse. Thanks to many years of aging in casks of brandy gets unique amber color, soft and delicate bouquet.
Cellar Paradis («Paradise") - the pride of the House of Gautier. Experts say that they have created a unique environment for the birth of cognac. Cellar located on the island, which is surrounded by two branches of the river AUR. High humidity and temperature stable create optimal conditions for maturing alcohol and enhance the effect of aging in a barrel of brandy that betrays a unique bouquet, an exclusive and unique structure of the soft palate. The cellar vintage cognacs from Grande Champagne region started before 1840. Cognac Gautier receive numerous awards at prestigious international exhibitions and competitions.
In our store you can buy cognac Gautier X.O. Extra 1755, gift box, 0.7 L, price Gautier X.O. Extra 1755, gift box, 0.7 L — $ 190. Producer cognac Gautier. Delivery Gautier X.O. Extra 1755, gift box, 0.7 L.