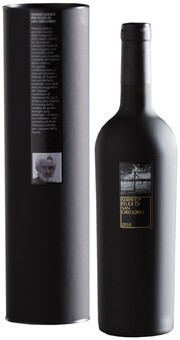 You can

Notify Availability
Wine:

Region:

Producer:

Strength

Volume:

Grape varieties:
Order by phone
+7 (495) 988-45-58
Call us
Our wine consultant (sommelier) will help you choose the wine to the table or as a gift. And will respond to all your questions on the wines.
Call Me Back
Tasting Notes
Color
Wine, ruby-red color.
Taste
Wine seduces rich, well-balanced taste with hints of fruit, minerality and sustainable long finish.
Aroma
The wine shows a complex aroma, woven from the notes of cherry, licorice, sweet spices, cocoa and coffee.
Gastronomy
The wine goes well with meat dishes, served to game and hard cheeses.
Interesting Facts
"Serpico" - a delightful Italian wine, soft, velvety, multifaceted. The wine is made from the harvest from vineyards with old vines grown in the unique terroir Taurasi, whereby "Serpico" stands out from the rest of the wine industry. Berries are carefully, almost maniacal selection. The wine is made only if the crop meets certain stringent requirements. Fermentation and maceration take place in steel tanks for 3 weeks, followed by holding for 18 months in French oak barrels. After bottling, the wine is kept in the cellar of the winery is still 12 months.

Founded in 1986, the winery Feudi di San Gregorio has become a symbol of rebirth wines of southern Italy and the culture of drinking in general. Keeping traditions, farming is constantly in search of building land, grape varieties, winemaking techniques. Feudi di San Gregorio appreciate autochthonous varieties of southern Italy, such as Aglianico, Fiano di Avellino and Greco di Tufo, investing in land and centuries-old traditions of viticulture Irpinia, giving the future a unique natural heritage area. Irpinia - a land of ancient traditions of winemaking, vineyards here peacefully coexist with fruit trees, forests, olive groves and fragrant herbs. In other words, the vines in Irpinia always been part of life in the region.
Originally vineyards Feudi di San Gregorio were in Sorbo Serpico, which to this day is a winery management. But, gradually, they were joined in the areas of Tufo, Santa Paolina and Taurasi, lying on the hills at an altitude of 350 to 700 meters above sea level. At present, the area of ​​vineyards increased from 30 to 300 hectares. In addition to the areas in Campania, the farm has a beautiful vineyards in Puglia and Basilicata. In 2004 was built another building of the winery, which is the result of a research project aimed at bringing together the depth of tradition and modern approaches to the production of wines.
In our store you can buy wine Feudi di San Gregorio, "Serpico", Irpinia DOC, 2010, gift box, price Feudi di San Gregorio, "Serpico", Irpinia DOC, 2010, gift box — $ 146. Producer wine Feudi di San Gregorio. Delivery Feudi di San Gregorio, "Serpico", Irpinia DOC, 2010, gift box.