Beer Der Hirschbrau, "Adlerkoenig Urtyp Hell", in keg, 30 L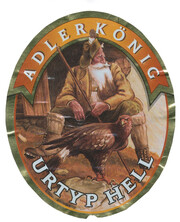 Beer:

Style:

Region:

Producer:

Brand:

Fermentation type:

Strength:

Volume:
Order by phone
+7 (495) 988-45-58
Call us
Our wine consultant (sommelier) will help you choose the wine to the table or as a gift. And will respond to all your questions on the wines.
Call Me Back
Tasting Notes
Color
Beer light yellow color.
Taste
Beer taste fresh, full-bodied but not heavy, with moderate carbonation, repeating aroma hints of malt, hops and herbs. The finish is dry, with a subtle bitterness.
Aroma
In malty flavor beer woven subtle nuances of straw, grass and hop.
Gastronomy
Beer goes well with German cuisine, cheeses, salads, pork, fish, shellfish.
Interesting Facts
New from family Hoss - beer brewed at the family brewery "Hirshbroy" in the Bavarian town of Sonthofen - light classic Bavarian lager "Adlerkoenig" Urtyp Hell with a harmonious, full-bodied taste. Easy to drink beer and leaves a very good impression. Lager is brewed according to the German "purity law" only the finest natural ingredients. "Adler Koenig" in German means "Eagle King", this strong bird depicted on the label beer.

Private Brewery Der Hirschbrau ("Deer") was built in 1861 by Herman Hossa in place of old reindeer farm of the XVII century, which in 1859 bought Josef Hoss. At the end of World War II, the brewery was destroyed by Soviet bombers, but the family has built up Hoss it again. In 1972, the brewery has expanded its possessions, not only erecting new warehouses for storage of products, but also a hotel and a beer garden. A little later, were put into operation a fully automated brewhouse, bottling line and a new beer cellar, where brewers established 32 fermentation in stainless steel tanks.
Today Hirshbroy family brewery produces a wide range of products, which are often produced on a small scale, but always - high quality! At the heart of the production are old recipes, family and regional (Alpine) tradition of making beer, love for his work and deliberation, by which beer brand "Hirshbroy" long enough is aged in barrels, which is a rarity in today's brewing.
In our store you can buy beer Der Hirschbrau, "Adlerkoenig Urtyp Hell", in keg, 30 L, price Der Hirschbrau, "Adlerkoenig Urtyp Hell", in keg, 30 L — $ 178. Producer beer Der Hirschbrau. Delivery Der Hirschbrau, "Adlerkoenig Urtyp Hell", in keg, 30 L.