Crystalite Bohemia, "Pavo" Whisky Glass, Set of 6 pcs, 230 ml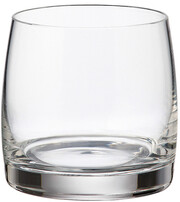 Region:

Producer:

Series:

Strength:

Made from:

Method of production :

Suitable for:

Spirits (Whisky, Armagnac , Calvados, Burbon)
Order by phone
+7 (495) 988-45-58
Call us
Our wine consultant (sommelier) will help you choose the wine to the table or as a gift. And will respond to all your questions on the wines.
Call Me Back
Interesting Facts
Glasses for whiskey from the Pavo collection due to the low cup with a thick bottom make it possible to feel the full finish of this strong drink. According to legend, the shape of the glass originated in the Wild West, where whiskey was very popular. The enterprising saloon owners sawed the broken bottles in half and used them as glasses, thus reducing the damage from the broken dishes. Since then, however, the shape of the glass has changed somewhat, and today the bowl expands slightly to the top, and the thin walls make it possible to see the texture of the drink. If you warm up such a whiskey glass in your hands, this will not only help to release its aroma, but also to determine its density and oiliness.
You can be completely confident in the high quality and environmental friendliness of products, because for their production they use lead-free crystal glass. Additional advantages are that whiskey glasses from Crystalite Bohemia are more durable and elegant, do not turn yellow with time, but at the same time retain the unique characteristics of crystal - its unique ring and shine.
Producer's description
Crystalite Bohemia is a Czech company whose history began quite recently, in 2009. Today, its production facilities are located in the town of Svetla nad Sazavou. The brand is engaged in the manufacture of high-quality utensils on modern production facilities. Brand models can be found not only in home interiors, but also in hotels, restaurants and shops.
In "Crystalite Bohemia" employs 750 specialists, and the annual turnover reaches 45 million euros. Ware brand is exported to many countries around the world. The company uses lead-free crystal glass as a material for manufacturing products. It is distinguished by environmental safety, durability and durability. In addition, dishes made of crystal glass, provides the perfect play of light and does not tarnish over time.
In our store you can buy glasses and decanters Crystalite Bohemia, "Pavo" Whisky Glass, Set of 6 pcs, 230 ml, price Crystalite Bohemia, "Pavo" Whisky Glass, Set of 6 pcs, 230 ml — $ 14. Producer glasses and decanters Crystalite Bohemia. Delivery Crystalite Bohemia, "Pavo" Whisky Glass, Set of 6 pcs, 230 ml.