Whisky "Chivas Regal" 12 years old, flask, 0.5 L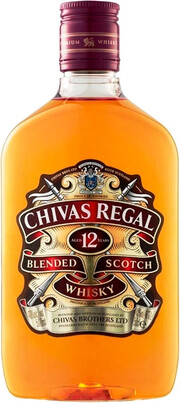 Region:

Producer:

Brand:

Strength:

Type:

Filtration:

Exposure:

Barrel aging:
Order by phone
+7 (495) 988-45-58
Call us
Our wine consultant (sommelier) will help you choose the wine to the table or as a gift. And will respond to all your questions on the wines.
Call Me Back
Tasting Notes
Color
Whiskey shining, warm amber color.
Taste
Whisky has a rounded, creamy, rich flavor tones of ripe, honeyed apples, vanilla, nuts and toffee. Rich, long aftertaste.
Aroma
Flavored whiskey with notes of wild herbs, heather, honey and orchard fruits.
Gastronomy
Whiskey is magnificent in its purest form.
Interesting Facts
Choosing a gift ceases to be painful as the eye catches a bottle of excellent Scotch whiskey Chivas Regal. This truly royal drink deserves to be part of every collection of alcoholic beverages or home mini-bar. Comfortable, small bottle in the shape of a flask, despite the lack of screaming frills, certainly attracts the views of those who are familiar with high quality whiskey Chivas Regal 12 Year Old. This drink premium received universal recognition not only within Scotland, but also throughout the world. The perfect gift for connoisseurs of spirits, as well as for those who have still not guided by an unsurpassed flavor of Scotch whiskey!
Whisky was awarded the Gold medal and the title of the winner in the category «Chivas Highland Jewel» on International Spirits Competition Cocktail Awards in 2003; Gold awards at the International Spirits Competition Cocktail Awards in 2004; Silver Award in the category of "10 to 12 year old» at International Wine & Spirits Competition in 2006; a silver medal San Francisco World Spirits Competition of 2008.
In our store you can buy whisky "Chivas Regal" 12 years old, flask, 0.5 L, price "Chivas Regal" 12 years old, flask, 0.5 L — $ 39. Producer whisky Chivas Brothers. Delivery "Chivas Regal" 12 years old, flask, 0.5 L.