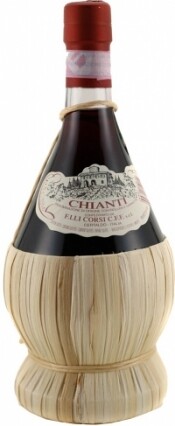 Order by phone
+7 (495) 988-45-58
Call us
Our wine consultant (sommelier) will help you choose the wine to the table or as a gift. And will respond to all your questions on the wines.
Call Me Back
Tasting Notes
Color
Wine a brilliant ruby ​​red color, approaching the pomegranate.
Taste
The wine has a dry, soft, velvety taste.
Aroma
The wine has a rich, intense flavor characteristic of Chianti.
Gastronomy
Wine perfectly complements meat dishes or venison, grilled.
Interesting Facts
Chianti - the most famous of Italian wines, got its name from the name of the locality in which it is produced. Most often found in Chianti bottle squat pot-bellied shape, braided straw, which is called the fiasco. Fyaski began to be used in the Middle Ages, when the production of glass was still imperfect and expensive, and the bottle gets very brittle. This tradition has come to the present day, but today is also the wine is bottled in ordinary bottles. The wine can be drunk now.
In our store you can buy wine Corsi, Chianti DOCG 2008, price Corsi, Chianti DOCG 2008 — $ 11. Producer wine Corsi. Delivery Corsi, Chianti DOCG 2008.