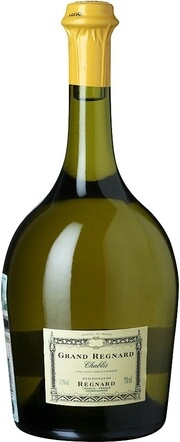 You can

Notify Availability
Wine:

Region:

Producer:

Strength

Volume:

Grape varieties:
Order by phone
+7 (495) 988-45-58
Call us
Our wine consultant (sommelier) will help you choose the wine to the table or as a gift. And will respond to all your questions on the wines.
Call Me Back
Tasting Notes
Color
Wine pale golden color with a greenish tint.
Taste
The wine has a light taste with good length, stringy structure and gentle ending.
Aroma
The wine has a strong, elegant, complex aroma with dominant notes of wild flowers, quince and apricot.
Gastronomy
Wine perfectly complements fish and white meat also goes well with shellfish and moreroduktami.
Interesting Facts
Renyar is among the most famous and prestigious wine houses of Burgundy. Renyar not only absorbed the rich tradition of the area, but also developed his own, unique, sophisticated and elegant style.
In our store you can buy wine Chablis "Grand Regnard" AOC, 2007, price Chablis "Grand Regnard" AOC, 2007 — $ 16. Producer wine Regnard. Delivery Chablis "Grand Regnard" AOC, 2007.