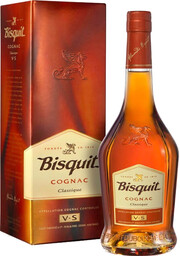 Order by phone
+7 (495) 988-45-58
Call us
Our wine consultant (sommelier) will help you choose the wine to the table or as a gift. And will respond to all your questions on the wines.
Call Me Back
Tasting Notes
Color
Cognac rich amber color.
Taste
Cognac has a soft and harmonious taste with hints of dried fruit and vanilla.
Aroma
Cognac has a mild fruit flavor with a hint of spice and vanilla.
Gastronomy
Cognac is the perfect digestif.
Interesting Facts
To prepare the cognac Bisquit VS uses only the best cognac spirits from the region Fin Bois (85%) and from appellasona Fine Champagne (15%). Age of the youngest brandy alcohol blended is 3 years. VS Cognac Bisquit was awarded a silver medal at the International Competition of wines and spirits IWSC in 2009. Biscuit VS in an elegant box can be a perfect gift for lovers of quality brandy.

Cognac Bisquit - true pride of the French. Bisquit Cognac House was founded back in 1819 and in a short time was able to win recognition and love in the most notable people of the world (including brandy was supplied to the court of the Russian emperor Nicholas II). To date, cognac house Renault-Bisquit is a leader and is one of the leading producers of brandy. Annual sales of cognac VS class in France is 3.2 million bottles!
In our store you can buy cognac Bisquit VS, with box, 0.7 L, price Bisquit VS, with box, 0.7 L — $ 48. Producer cognac Bisquit. Delivery Bisquit VS, with box, 0.7 L.