Berta, Grappa "Magia", 2008, gift box, 0.7 L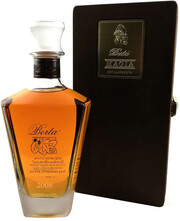 You can

Notify Availability
Region:

Producer:

Strength:

43%

Volume:
Order by phone
+7 (495) 988-45-58
Call us
Our wine consultant (sommelier) will help you choose the wine to the table or as a gift. And will respond to all your questions on the wines.
Call Me Back
Tasting Notes
Color
Grappa attractive amber color.
Taste
Taste Grappa elegant, warm, largely repeating flavor. The finish is long.
Aroma
The aroma of grappa complex, voluminous and very warm, with hints of orange peel, tobacco and raisins.
Gastronomy
Grappa is an excellent digestif, goes well with custard coffee, cigar, may be used with ice.
Interesting Facts
From the XV century grappa was simple Italians drink, but years of improvement made it a high-end product, the symbol of Italy, "Italian brandy." Grappa is produced by distilling grape pomace (seeds, peel and pulp) - either immediately after pressing the grapes, or from pomace after the formation of wine. Then grappa is aged in oak barrels.

Grappa "Magia" distilled from the best grapes varieties Barbera, Malvasia and Brachetto, grown in vineyards around the plant in Nizza Monferrato. Grappa is made by distilling in copper cauldrons working at discontinuous cycle, and aged in oak barrels for eleven years. Grappa "Maggia" released in a fine wooden box, and emphasize the critical importance of this great beverage.

The first plant of the company "Berta Distillery" for the production of grappa was opened in 1947 by Paolo Bert in Nizza Monferrato. His ancestors, like many of the farming families worked in the vineyards and wineries, and his father opened in Milan pharmacy network, where not only sold drugs, but also conducted research in the field of herbal medicine and chemistry, causing invented liqueur with medicinal properties . Later, he even created and bottled basis for some wine-products - Muscat elixir. Step by step, the plant in Nizza Monferrato becomes known and begins to export its products abroad in special ceramic bottles. Sons Paolo continued his father's work, pay more attention to building a new marketing and advertising policy. Another innovation was the invention of a new revolutionary design for a bottle of grappa, which is still the hallmark of "Berta Distillery", along with the highest quality of produced beverage. Today grappa "Berta Distillery" is imported in more than 60 countries.
In our store you can buy grappa Berta, Grappa "Magia", 2008, gift box, 0.7 L, price Berta, Grappa "Magia", 2008, gift box, 0.7 L — $ 158. Producer grappa Distillerie Berta. Delivery Berta, Grappa "Magia", 2008, gift box, 0.7 L.