Liqueur Amaretto "Florence", 0.7 L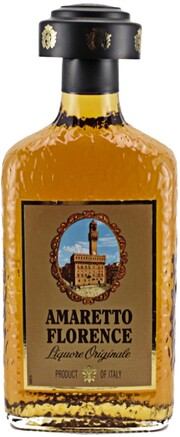 Region:

Brand:

Strength:

Producer:

Style:

Volume:
Order by phone
+7 (495) 988-45-58
Call us
Our wine consultant (sommelier) will help you choose the wine to the table or as a gift. And will respond to all your questions on the wines.
Call Me Back
Tasting Notes
Color
Sweet liqueur dark amber.
Taste
Liquor has a slight almond flavor with a hint of vanilla.
Aroma
Flavored liqueur with almond flavor.
Gastronomy
Thanks to its flavor liqueur blends perfectly with the coffee, champagne and ice cream. This is not only a wonderful aperitif, but also a great addition to desserts.
Interesting Facts
Amaretto liqueur Florence is one of the most prestigious brands in its class in Italy. His name shall Amaretto Florence Italian city of Florence in Tuscany, where he first saw the light. This is a traditional Italian liqueur based on almonds, apricot seeds and spices. Pleasant to the taste, delicate and light, it will especially enjoy the ladies, but men too can appreciate its great taste, using as an aperitif or additions to a cup of coffee.
Franciacorta Distillery Company was founded in 1901 by Luigi Highlanders, grandfather of three brothers Gillian, Antonio and Luigi, the current owners of the company, in the city of Gussago, in the picturesque hills of the region Franciacorta. In this beautiful area Luigi Highlanders began to collect and distillation residues of pressed grapes. Since then three generations, and the company continued to develop and expand their businesses. In 1977, the brothers Highlanders organized joint stock company "Distillerie Franciacorta SpA" and came to a large market. From that moment they began to focus on the production of grappa, vodka and liqueurs.
The philosophy of the company implies high quality production that do not change over the years, thanks to this observed a clear balance between manufacturability and tradition of manufacturing recipes. Today Franciacorta Distillery - one of the leading brands in the spirits industry.
In our store you can buy liqueur Amaretto "Florence", 0.7 L, price Amaretto "Florence", 0.7 L — $ 27. Producer liqueur Distillerie Franciacorta. Delivery Amaretto "Florence", 0.7 L.