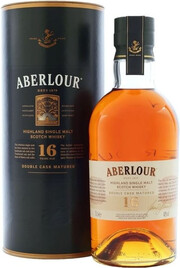 Region:

Producer:

Brand:

Strength:

Type:

Exposure:

Barrel aging:
Order by phone
+7 (495) 988-45-58
Call us
Our wine consultant (sommelier) will help you choose the wine to the table or as a gift. And will respond to all your questions on the wines.
Call Me Back
Tasting Notes
Color
Whiskey deep golden amber color.
Taste
Whisky is full-bodied, rich flavor with hints of fruit and spice, sweet, long finish with hints of oak, raisins and sherry tones.
Aroma
Whisky has a complex, deep aroma
with hints of flowers, raisins.
Gastronomy
Whiskey is recommended to use pure ice, the drink is perfect as a digestif.
Interesting Facts
Aberlour 16 Years Old - high malt whiskey, which takes place in the maturation of the two types of barrels - 50% whiskey is aged in barrels of bourbon, the other half in barrels of sherry, then connect them together and kept for 6 months. As a result, the drink gets rich taste, full-bodied and complex bouquet of flavors. Aberlour - a classic Speyside malt whiskey in the region, in this way was made whiskey in the 19th century.
Aberlour Distillery was founded by James Fleming in 1879, it is located a few hundred meters from the River Spey in the heart of Speyside, the most famous in the region for the production of whiskey in Scotland. Due to the growing interest in Aberlour, distillery is constantly increasing production of whiskey, which is sold in more than 50 countries around the world.
Aberlour 16 Years Old in an elegant box can be a perfect gift for whiskey lovers.
In our store you can buy whisky "Aberlour" 16 Years Old, gift box, 0.7 L, price "Aberlour" 16 Years Old, gift box, 0.7 L — $ 187. Producer whisky Aberlour. Delivery "Aberlour" 16 Years Old, gift box, 0.7 L.